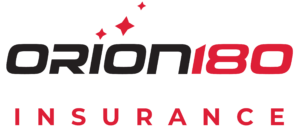 Ken Gregg, the visionary behind Orion180, is transforming the insurance landscape. With over 26 years of industry experience and our unwavering dedication to technology-driven solutions, we're changing the game. At the heart of this transformation is MY180, our groundbreaking technology that empowers independent insurance agents to quote and issue policies in under three minutes through a mobile app. It also enhances customer service and policyholder experiences.
Recognized for his efficiency-centric leadership, Ryan Jesenik, as our COO, drives growth and profitability while ensuring customer satisfaction. Orion180's impressive growth, landing us at No. 229 on the 2023 Inc. 5000 list, confirms our status as industry trailblazers.
Orion180 is more than just an insurance company; it's a vision. Our people-focused, technology-driven approach, backed by MY180's innovative capabilities, is reshaping how insurance is experienced. With a promise of MORE—more technology, more service, and more culture—Orion180 is redefining the insurance industry's future. Join us on this journey as we explore the insurance innovation led by Ken Gregg & Ryan Jesenik.
Orion180 Leaders Honored with Insurance Industry Recognitions
CEO Ken Gregg Named 'Insurance Luminary' and COO Ryan Jesenik Named 'Rising Star'
Gregg, who founded Orion180 to provide a premier insurance experience for customers and independent agent partners, was recognized for the ability of the firm's innovative technology, MY180, to be a key driver of an exceptional customer experience.
In recognizing Gregg for technology innovation, PropertyCasualty360.com notes: "MY180 is Orion180's comprehensive system that seamlessly drives the entire policy lifecycle. It gives [independent insurance] agents the power to quote and issue policies in under three minutes anywhere, any time with its mobile app. It also empowers the Orion180 customer experience team members to provide the exceptional service and support that agents and customers seek." Policyholders can also benefit from the MY180 mobile app for Apple and Android by viewing policy documents, making payments, checking claims status and conducting home self-inspections.
Gregg has over 26 years of industry experience and holds a bachelor's degree in economics and a master's degree in finance from the University of Central Florida. He served honorably in the U.S. Marine Corps.
Jesenik was recognized by Insurance Business America for "his leadership and impactful contributions to the insurance sector," notes the publication. "His efficiency-centric approach heightens productivity, identifies optimization opportunities, and strengthens Orion180's foundation for expansion."
Overseeing sales and operations, Jesenik uses analytics and process optimization to orchestrate daily operations with a focus on growth, profitability and customer satisfaction. As COO, he also manages business intelligence, focusing on rate adequacy, territory capacity and operational performance.
Jesenik has more than a decade of experience in operations and corporate finance. He holds a business degree with a concentration in finance from the University of Oregon.
Orion180 was named recently as No. 229 on the 2023 Inc. 5000 list of America's fastest-growing private companies and No. 3 among insurance firms. Companies on the 2023 Inc. 5000 are ranked by percentage revenue growth from 2019 to 2022. Orion180 experienced 2,441% growth during that period.
About Orion180
Orion180 is a people-focused, technology-driven insurance brand that offers proprietary technology, real-time data, and straightforward underwriting practices, enabling independent insurance agents to provide their customers a premier insurance experience.
Orion180's operating companies are:
Orion180 Insurance Co., a surplus lines (non-admitted) insurance company domiciled in Indiana and doing business in Alabama, Georgia, Mississippi, North Carolina and South Carolina.
Orion180 Select Insurance Co., an admitted insurance company domiciled in Indiana that is approved to provide coverage in Alabama, Florida, Indiana, Mississippi and Georgia.
Orion180 Insurance Services LLC, a managing general underwriter that partners with carriers and reinsurers to deliver homeowners insurance and other insurance solutions.
Orion180 has developed its own proprietary mobile application and technology platform, MY180, while also supporting third-party data integrations with insurance industry partners.
Orion180's vision is to enhance the way consumers purchase coverage and manage their insurance needs. Innovation in technology enables us to do MORE as we harness the power of our cutting-edge proprietary technology. Innovation in service is the catalyst allowing us to give MORE and achieve the highest level of customer care. Our innovation in culture fosters an environment that empowers us to be MORE. This innovation-focused ecosystem enables our customers to expect MORE.
Source: www.businesswire.com